I found this snippet on the Associated Action Figure Press, and thought I'd pass it along. Hardly a surprise, but there you have it. [Link removed upon request]
"Voodoo dolls across the globe stood united today against the tyrannies of an uneducated human society and refused to make use of their sympathetic magics. For generations voodoo dolls have been used to heal or to harm, but no longer.
'We've grown weary of the constant abuse,' said Geoff Rouge [pictured].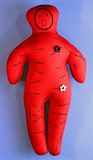 'We understand our purpose in life, and we've always taken great pride in it. But the general public, especially in the United States, does NOT understand that purpose. They use us for their own wicked and selfish purposes, not for self-preservation, communication with the recently dead, or healing. Ever since "Live and Let Die" came out in '73, Americans especially have been confused about what our job ACTUALLY is.'
Vodoun Local #996 first proposed the strike nearly two years ago, but most union leaders felt it was too extreme a measure. Recent increases in hexes and curses have changed many minds, however. It is hoped the strike (which all leaders we spoke to emphasized was temporary) will lead to a decrease in human reliance on the dolls. After a yet-to-be-determined period of time the dolls will resume the use of their skills. In the meantime, they look forward to some well-deserved time off funded by union trust funds.
'I'm finally going to be able to spend some time with my family in New Orleans, maybe take them on vacation," says Rouge. 'I'd love for the kids to see Disneyworld.'"